USB Connection:
GROM-USB car stereo adapter connects your USB 2.0 device such as flash drive, external hard drive or mass storage device to the stock stereo in your car. With GROM-USB you can listen to your digital music library and control the playback through your car stereo controls.
Bluetooth:
Use your phone in the car hands free (HFP), stream your MP3 music from your phone to the factory stereo via Bluetooth Audio playback (A2DP), control your MP3 music with the car stereo or steering wheel controls via Bluetooth wireless audio control (AVRCP) with the
GROM Bluetooth Dongle
AUX Input:
Aux connection (for any additional audio source such as DVD, MP3 player, XM and more) via
GROM AUX MiniDin to 3.5mm audio cable, 6FT.
Operation of USB is simple:
Transfer your MP3/WMA/iTunes (AAC) files to USB stick/disk/drive
Connect GROM-USB car kit to your car stereo via CD changer port
Connect USB male to female cable to GROM
Plug-in USB disk / stick / drive into GROM
Now your stereo:
Converted USB disk into virtual CD changer
Plays MP3 / WMA / iTunes (AAC) files
Browse your music files via car stereo buttons (check Operation Manual)
Navigates through directories and map them to the disc buttons on your car stereo or steering wheel controls
Plays higher than CD quality (18 bits) sound directly to your car stereo
Provides additional AUX input via RCA and 3.5mm cable (you will need to get GROM MiniDin to 3.5mm audio cable for that)
Provides additional iPod/iPhone interface with full control and charge with GROM IPOD 5V cable for USB
Provides Bluetooth hands free and wireless music playback from your mobile phone with the additional GROM Bluetooth Dongle
Note:
Since there is only one EXT port on the GROM USB adapter box you may only have one of two - Bluetooth or AUX cable - connected at a time.
Main characteristics:
Built-in high quality (18 bits,low noise) MP3 / WMA Decoder
Supports USB Stick / flash drive / mass storage device
FAT 16/32 system supported
Higher than CD quality sound of your MP3 files with level-matching technology
Full control over the music via steering wheel or car stereo controls
Maps discs to root folders
Shuffle, scan, repeat through your MP3/WMA files
Additional audio MiniDin to 3.5mm cableto connect any MP3/Audio player
Bluetooth handsfree and wireless music playback from your mobile phone via GROM Bluetooth Dongle
Playlist positions are preserved for several USB sticks
For more information on folders, formats, operation and limits- read FAQ
Firmware upgradeable, universal interface fits many car makes
Technical specs:
Operating temperature: -40C - +85C (-50F - +200F)
Operational current: ~150mA
Standby current: ~2mA
SN Ratio: 70dB
DAC resolution: 18bit
Total harmonic distortion: 0.1%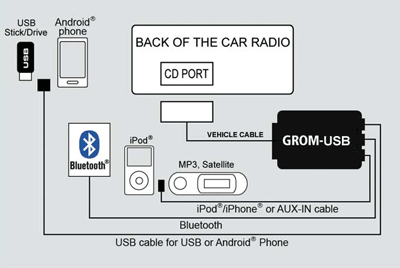 Important:
Please carefully check the compatibility list for your vehicle. You can also check the CD changer port at the back of your stereo and compare it to the following
chart
For Mazda6 2004 please read an
article
to understand what's involved in making our device work.