iPod/iPhone Integration:
Connect your iPod/iPhone to the car stereo. Control music files with the car stereo or steering wheel controls, browse by folders and files, and charge your iPod/iPhone.
Bluetooth:
Use your phone in the car hands free (HFP), stream your MP3 music from your phone to the factory stereo via Bluetooth Audio playback (A2DP), control your MP3 music with the car stereo or steering wheel controls via Bluetooth wireless audio control (AVRCP) with the
GROM Bluetooth Dongle
AUX Input:
AUX connection for any additional audio source (such as DVD, MP3 player, XM and more via
GROM to RCA and 3.5mm AUX cable
Note:
There is only one extension port on the unit - so you can have either AUX or Bluetooth connected at the same time.
Where it connects:
The adapter plugs into the back of your stereo (or in the trunk where trunk cables available), then you connect it to your iPod and enjoy crystal clear sound and full control over iPod with the car stereo controls!
Operation of the iPod/iPhone:
Get CD quality sound from the iPod through existing car stereo
Control and operate your iPod with car stereo buttons or steering wheel controls

Convert iPod into virtual CD changer
Disc 1 allow to control iPod from its own clicking wheel and from the stereo controls
Disc 2-6 mapped to playlists you create on iPod. Full control from car stereo. The following information is displayed: Disc #, Track #, time etc
MIX, REPEAT work as usual
SCAN allow to skip +-10 tracks for faster navigation
Playlist positions are preserved for fast operation

Shuffle songs, switch between tracks, playlists and adjust volume - all by using head unit controls
Charge iPod/iPhone
Firmware updates:
You can update the firmware via micro SD card. The adapter is universal and fits many car makes.
Important:
Please carefully check the compatibility list for your vehicle. You can also check the CD changer port at the back of your stereo and compare it to the following
chart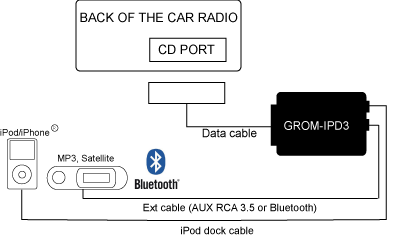 The adapter comes with HON1M harness (vehicle specific harness) that will fit to all Honda / Acura radios ( equipped or non-equipped with NAV or XM)
There is no any additional cable needed